Casino Carnival in Goa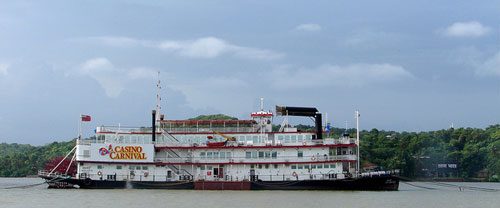 Casino Carnival on the River situated on the Mandovi River overlooking the capital of Goa Panjim lays claim to the most outrageously fashionable and entertainment packed venue in Goa. They have embroidered the quintessential need for gaming and brilliance with their Live Table Gaming which holds the most prestigious Card Room "The River Card Room", fresh off the line Slot Machines and remarkable blend of entertainment and culture.
Built and designed keeping in mind the aesthetic sensibilities of its guests, Casino Carnival provides its guests with the best of live table gaming and live entertainment. Casino Carnival has been set up in compliance with international safety guideline, to ensure safety of its guests. The boat is a Passenger Vessel and although fit to sail, Casino Carnival's Boa Sorte remains anchored on the Mandovi River as per the requirements of the local government regulations.
Casino Carnival has 4 operational decks with large gaming area, having 27 gaming tables which also includes 2 Automated Roulette Tables and the largest selection of Slot Machines with a total of 45. The food and beverage arrangements at the 'Samba' the restaurant and dining area, will tantalize your taste buds.
Casino Carnival always has live and exhilarating entertainment on the main gaming floor as well as at the open air deck. Casino Carnival has a private jetty with safe and comfortable feeder boats to ferry you from the jetty to the casino, and back quickly.

Other facilities at Casino Carnival include:
»Casino Carnival is host a variety of services to make your every visit an entertaining and memorable one.
»Casino Carnival – The main gaming floor
»The Club - VIP Room
»River Card Room – The Poker Room
»Casino Carnival Bar – The Bar on the main gaming floor
»Samba – The Restaurant and Dining Area
»Ribbons – The souvenir & merchandise outlet
»Open Air Entertainment Deck
Gaming Includes:
» 45 Slot Machines
» 2 Automated Roulette Tables (Evonas)
» 8 Live Roulette Tables
» 8 Texas Hold'em Poker Tables
» 4 Punto Banco Tables
» 3 Carnival Five Card Poker Tables
» 2 Three card Poker Tables