Casino Las Vegas - at The Leela Kempinski Goa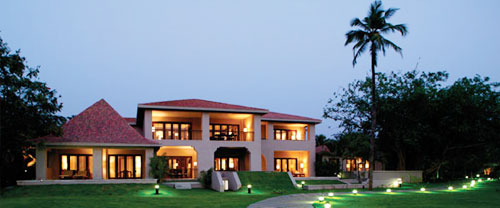 The Gaming Club - Las Vegas is where the stakes get raised in Goa. Thanks to the 24 hour Casino at The Leela Kempinski Goa. Walk into this high-rollers' paradise and lose yourself amongst the slot machines, roulette and derby games. Try a hand or two and Lady Luck might end up shaking hands with you.
The Leela kempinski Resort Goa, is one of the 5 star resort in Goa South Goa, the property at Leela Resort Goa boasts a 12 hole, par 3 golf course for the aficionados. And if you prefer to unwind by not doing anything at all, you have the Mobor beach Goa pretty much to yourself.
Leela Resort Goa being a luxury resort means that Leela Resort Goa offers you a choice 186 rooms, suites and villas, as well as from a host of dining options and leisure activities. Add to this a state-of-the-art business centre and you have the perfect destination for a company conference too at the Leela Resort Goa.
The Leela Resort Goa Kempinski Goa was built to be the ultimate luxury resort for people seeking refuge from big-city stress. This is the precise reason why Leela Resort Goa stunning location next to a river, by the sea, but far from humanity. Leela Resort Goa also provides the best Casino, known as Las Vegas Casino at Leela Resort Goa. Luckily, the only settlement of people nearby is the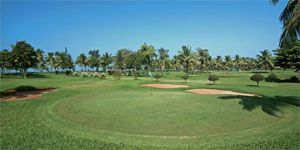 neighboring fishing village by the Sal.
Facilities at The Leela Kempinski Resort Goa:
» 12 hole, par-3 Golf course
» Airport transfers
» Baby sitting (with prior intimation)
» Badminton
» Banquet facilities
» Boutique and souvenir shop
» Business services
» Car rental (with driver)
» Children's activity centre
» Conference facilities
» Discotheque
» Floodlit tennis courts
» Foreign exchange
» Kid's swimming pool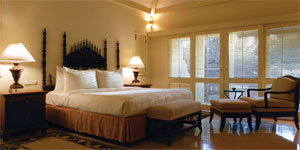 » Massage & beauty services
» Medical service on call
» Meeting rooms
» Sightseeing tours
» Spa centre
» Swimming pool
» Taxi service
» Water sports
» Windsurfing
» Yoga & Meditation



Accommodation:
The Leela Kempinski Goa is one of the most alluring 5 star hotels in Goa with 186 plush rooms and suites. All rooms are spacious, elegantly furnished and come with central air conditioning, colour TV with satellite channels, DVD players and CD players, Wi-Fi internet connectivity and private balconies so that you can enjoy a relaxing breakfast or a romantic dinner. All rooms also have a lagoon view except the Royal Villas and Presidential Suite, which face the ocean and overlook the golf course.
The Presidential Suite, the Royal Villas and the 6 Club Suites come with a personal plunge pool.