Casino Pride in Goa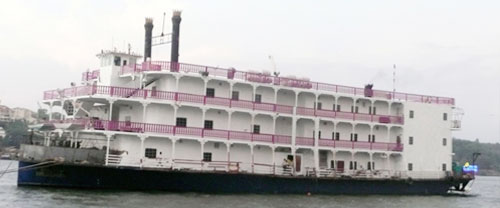 Casino Pride, built upon the vessel MV The Pride of Goa and berthed on the River Mandovi, is one of Goa's Latest, largest and most luxurious offshore Casinos. As far as its decor goes, Casino Pride is breathtakingly impressive. It occupies three spacious floors covering over 30,000 sq.ft. in area. Its pillared gold ceiling fills the hall on each floor with cheerful illumination: no glare, no shadow. Just perfect to spin the wheel, shuffle the pack or roll the dice as you sip your favourite beverage.

Casino Pride offers exhilarating live gaming experiences, personalized yet unconstructive service, and other delightful indulgence to more then 500 guest at a time. It has around forty tables for American Roulette, Blackjack, Baccarat, Casino War, Mini Flush, Flush and Paplu (Rummy), besides several electronic Slot Machines. Along with gaming, the opulent onboard facilities include a multi-cuisine restaurant, well-stocked bar on each floor and barbecue on the weather deck.

While the adults are at play, the kids are kept well-occupied in a spacious kids zone, replete with the latest digital/ computer games and gizmos. Trips to the mainland is by the latest speed boats.

Pride Poker Room:
The New Pride Poker Room is the largest poker dedicated venue in India. There are six table open daily from 19:00 hrs-05:00 hrs (day time opening is available Friday- Sunday) for cash game of no limit Hold'em Poker. Daily Tournaments starts from 20:00 hrs.

The staff has been professionally trained to the highest standard. All equipment include table, chips and cards are the best quality.

The experienced Tournament Directors / Card Room Managers are on hand to give players their knowledge and expertise when ever required.

The Poker Room has the latest technology with plasma screen displaying the tournament clock, Poker Tournaments and live sporting events.

There are full drinks and gourmet snack services for all players in the card room.

Other facilities at Casino Pride include:
- Casino bar
- Safe deposit Lockers
- Air conditioned multi-cuisine buffet restaurant
- Below 18 yrs TV/video game room
- Toddlers room with trained Baby-sitter
- International safety standards maintained
- Shuttle service at regular intervals.